Thanks to Ed Norton-No Oscar Goodie Bag
In 2007, the Oscars will go without their legendary bag of treats that were estimated to be valued well in excess of $100,000 each. Celebrities got them for just showing up to the stupid event. What I want to know is where is my compensation for watching that extremely dull program year after year?

(Alright, who just threw a dunce cap at me?)



The U.S. Internal Revenue Service got smart and forced The Academy of Motion Picture Arts and Sciences to hand out tax forms to everyone who received free gifts. The IRS Commissioner, Mark Everson, said, "There's no red carpet loophole for the stars." And nor should there be!

What I love about this story is that an accomplished actor, Edward Norton, made some noise about how actors are spoiled beyond belief with gifts at these unimportant gatherings. He said:
"A lot of us have talked to the Academy Awards producers about this and I think they're actually going to scuttle the gift baskets and that kind of stuff. I mean the gift baskets, worth amounts of money that a low income family could live on for a year, (are given to) people who have so much already. It gets depressing. You sit there, going, 'This is an embarrassment.'"
Bravo, Eddie. Bravo. I can call you "Eddie", right? No? Why not?

How many award shows will it take to sate the ego of an already fortunate celebrity? I can see someone who saved an old lady from drowning in a freezing pond rightly deserving an award. Actors get paid millions for just saying their lame lines or reading off of a Lite Brite teleprompter.

In grade school, when I came in 2nd for our district's Spelling Bee, all I got was a 20¢ off coupon for my next purchase of a McDonald's hamburger. I should've just tore up the nearly worthless piece of paper, threw it back at the Corvette-driving Principal's face, and told him to stick it. S-T-I-C-K-- I-T. As in stick it up your ass until you start to fart confetti!

Anyways, I'm sure many conceited stars are going to boycott the 2007 Academy Awards, while doing their best to spread untrue rumors that Edward Norton is a gay Jew hating Nazi.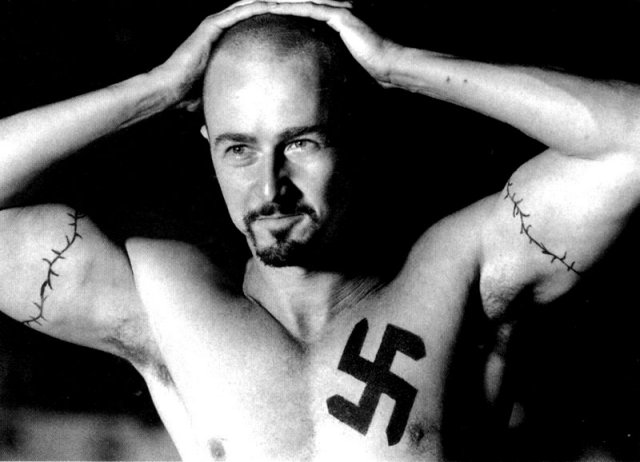 Labels: Edward Norton